10 Cocoa Beach Vrbo Rentals On The Water
Cocoa Beach, located on what is often referred to as Florida's Space Coast, is another one of the multitude of gorgeous tourist destinations in the Sunshine State. The closest beach to Orlando, Cocoa Beach is busy all year round and offers plenty to do for visitors of all ages, including families!
There is plenty to do at Cocoa Beach, including a visit to the Cocoa Beach Pier, surfing in Florida's surfing capital, watching space launches from Kennedy Space Center at Cape Canaveral, or going fishing — there is no doubt you will find plenty of other options when you're not relaxing on the beach.
If you're thinking of heading to the area around Christmas, Cocoa Beach has a whole lot going on. From surfing and skydiving Santa's to a boat parade, there are plenty of reasons to give this beautiful destination a look when planning your next beach vacation.
Home of the original Ron Jon Surf Shop, there are some great insider tips available before you explore Cocoa Beach. From where to go, what to bring, where to visit, and everything in-between, these words of wisdom should help you prepare for your trip.
To help you with accommodations, we've put together a list of 10 fantastic Cocoa Beach Vrbo rentals that are right on the water with direct beach access. These options can accommodate from three to eight guests. All of them have great views, they all come highly rated, and the reviews are outstanding. Book your trip soon — there are plenty of options to choose from!
Deluxe Direct Ocean Front Corner Condo
Rent Now$154/avg nightly
Enjoy gorgeous ocean views from your private balcony and master bedroom in this oceanfront 2-bedroom condo with space to accommodate up to six guests. The master bedroom comes with a king bed, the second bedroom with a queen and a full bed, and your kitchen is fully equipped for your convenience. Facilities available in the complex include an outdoor heated pool, hot tub, tennis court, and plenty of private parking. The living room furniture is new — including a deluxe La-Z-Boy chair!
Bedrooms: 2
Bathrooms: 2
Sleeps: 6
Amazing Ocean View Condo
Rent Now$169/avg nightly
This amazing condo in the heart of Cocoa Beach is beautifully decorated and has a fully equipped kitchen and a living room with a conversion sofa. Gaze out of the glass sliding door that looks directly out to the ocean while relaxing inside this bright and fun one-bedroom condo that has a washer and dryer in the unit.
Enjoy the views of the ocean and private path to the beach from the balcony, then head to the beach with the provided beach chairs, beach towels, cooler, and more!
Bedrooms: 1
Bathrooms: 1
Sleeps: 4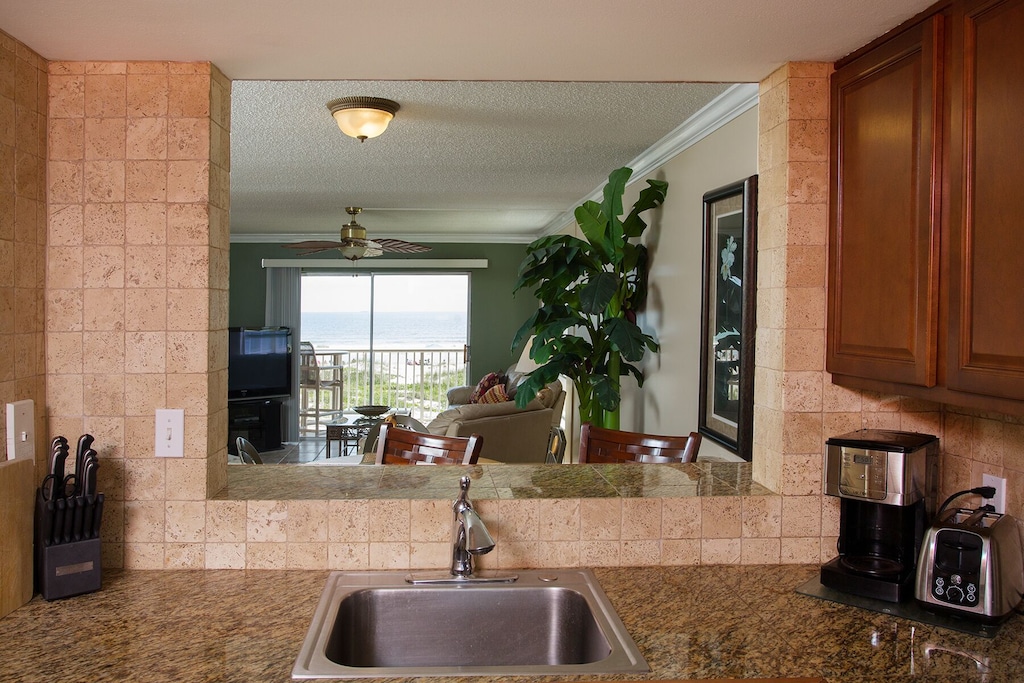 Second Floor Condo With Amazing Ocean Views
Rent Now$170/avg nightly
You can't beat the fabulous views from this oceanfront, corner condo with a private balcony that overlooks the Atlantic Ocean. Sleep in luxury thanks to a king-size poster bed in the master, take advantage of the newly remodeled kitchen with all stainless appliances, or head out to one of the many nearby restaurants. The nicely furnished living room and dining room offer great spaces to gather — including a 50-inch television for those nights you want to kick back and relax on the leather couch. Washer, dryer, beach towels, beach chairs, umbrellas, coolers, and beach toys are all provided!
Bedrooms: 2
Bathrooms: 2
Sleeps: 5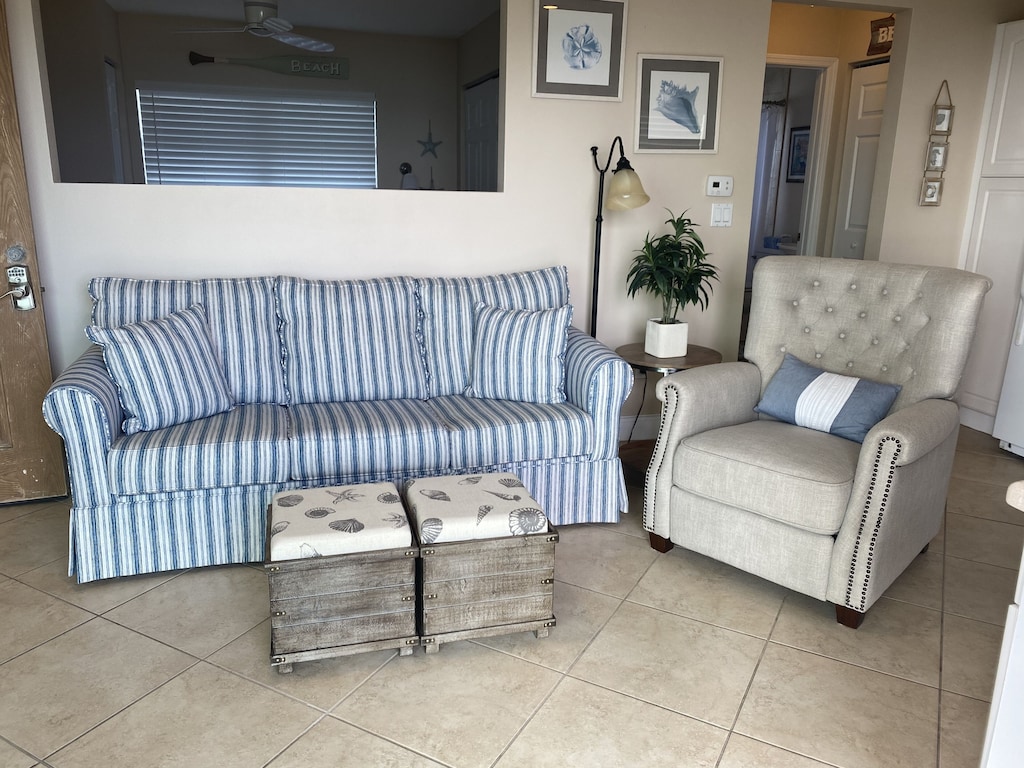 Gorgeous oceanfront condo
Rent Now$176/avg nightly
For those interested in a quintessentially cozy place to stay, this gorgeous one-bedroom unit overlooks the ocean and is right in the heart of Cocoa Beach. The full-size kitchen comes with everything you'll need, or take advantage of being within walking distance of local restaurants. You will love the balcony, which offers beautiful ocean views. There is a washer and dryer in the unit for your convenience.
Bedrooms: 1
Bathrooms: 1
Sleeps: 4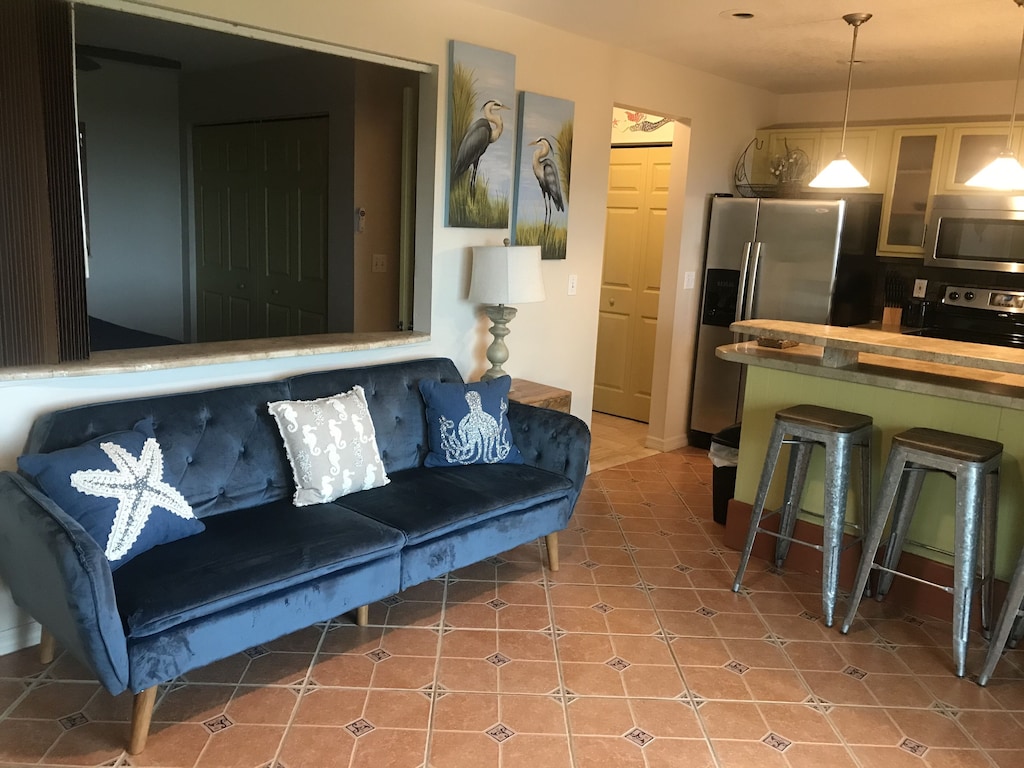 Fully Furnished Oceanfront Condo
Rent Now$191/avg nightly
Interested in a cozy vacation home that happens to be on the ground floor? This fully furnished unit comes with a queen-size pillow top bed and a sleeper sofa, which allows for up to three guests. The full-size kitchen has everything you'll need, including pots and pans, a toaster oven, stove, microwave, and more. Just steps from the ocean, you've also got a washer and dryer in the unit. Great reviews – check it out!
Bedrooms: 1
Bathrooms: 1
Sleeps: 3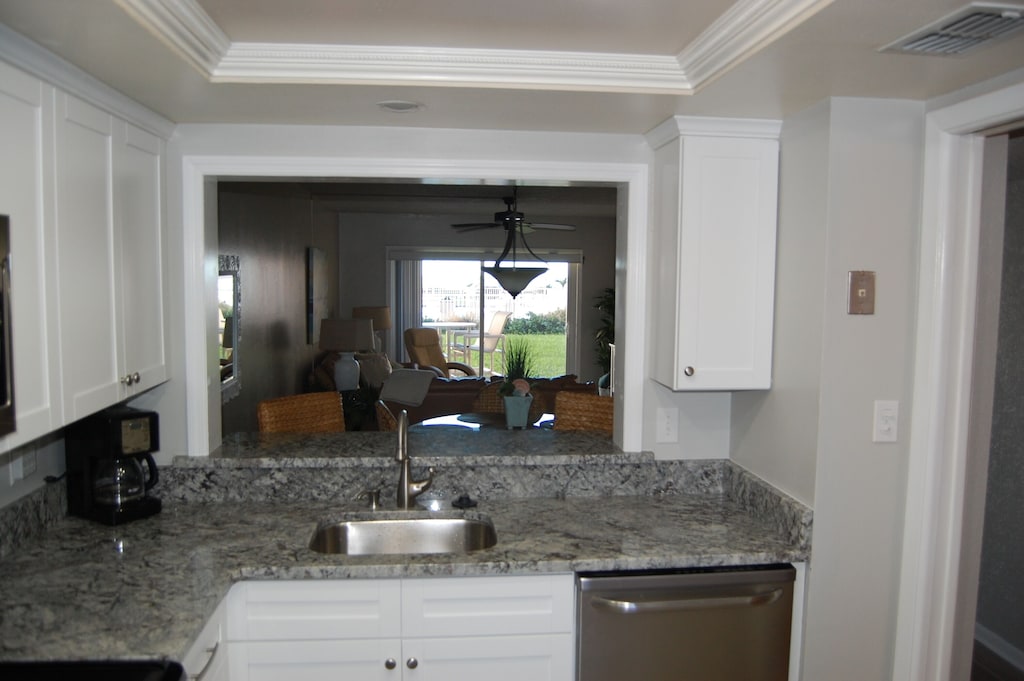 Newly Refurbished Beachfront Condo
Rent Now$200/avg nightly
Newly refurbished, on the ground floor, oceanfront, and 1,400 square feet — what else could you want? The perfect place for a relaxing retreat, you'll love this rental. It has an amply appointed kitchen that comes complete with shaker cabinets and granite countertops, and there's even a washer and dryer. The master bedroom comes with a king bed and faces the ocean, and the swimming pool is right outside the unit! Note: This rental does not accommodate pets.
Bedrooms: 3
Bathrooms: 2
Sleeps: 6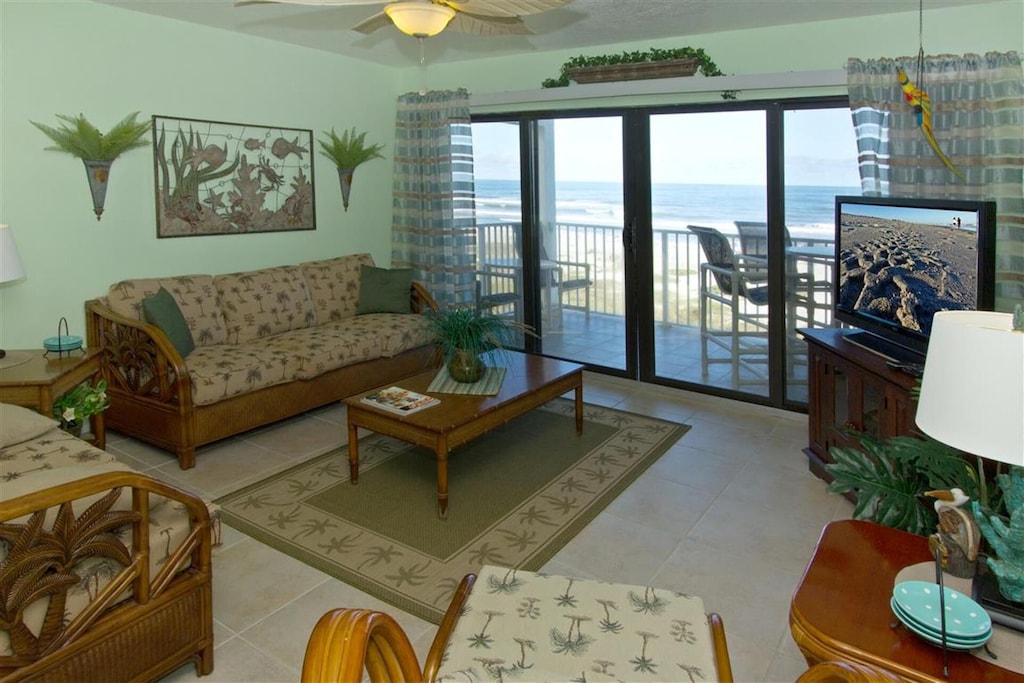 Oceanfront Corner Unit
Rent Now$225/avg nightly
Take a look at this bright and colorful oceanfront corner unit that offers direct access to the beach. This fourth-floor option offers amazing views of the Atlantic Ocean from both the living room balcony and the master bedroom, which comes with a king-size bed. The second bedroom has two queen beds, the kitchen is well equipped, and feel free to take advantage of the provided beach chairs, washer and dryer, and more!
Bedrooms: 3
Bathrooms: 2
Sleeps: 6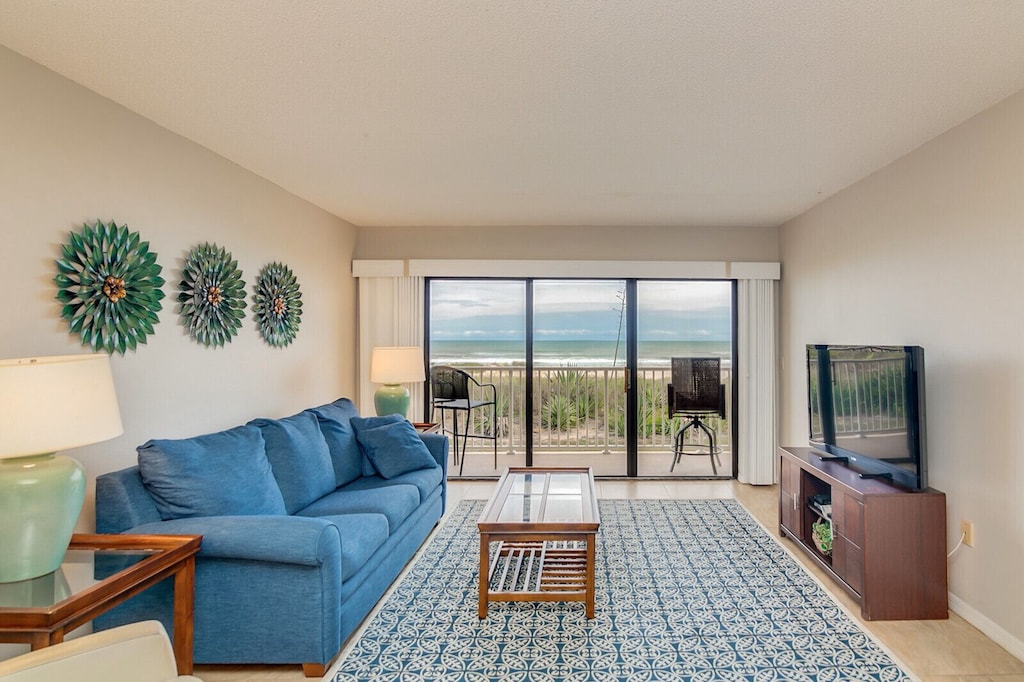 Direct Ocean To Boardwalk Condo
Rent Now$238/avg nightly
Located in the heart of Cocoa Beach, this beachfront end unit has a 30-foot balcony, a private gate to the beach, and offers two parking spaces. With room for six guests, the master bedroom has a king size bed, a walk-in closet, and a direct view of the ocean. The dining area and living room also look out to the ocean, and the kitchen comes fully equipped with new appliances. The unit also has a washer and dryer.
Beach towels and beach equipment are provided — a nice perk! Note: This rental does not accommodate pets.
Bedrooms: 2
Bathrooms: 2
Sleeps: 6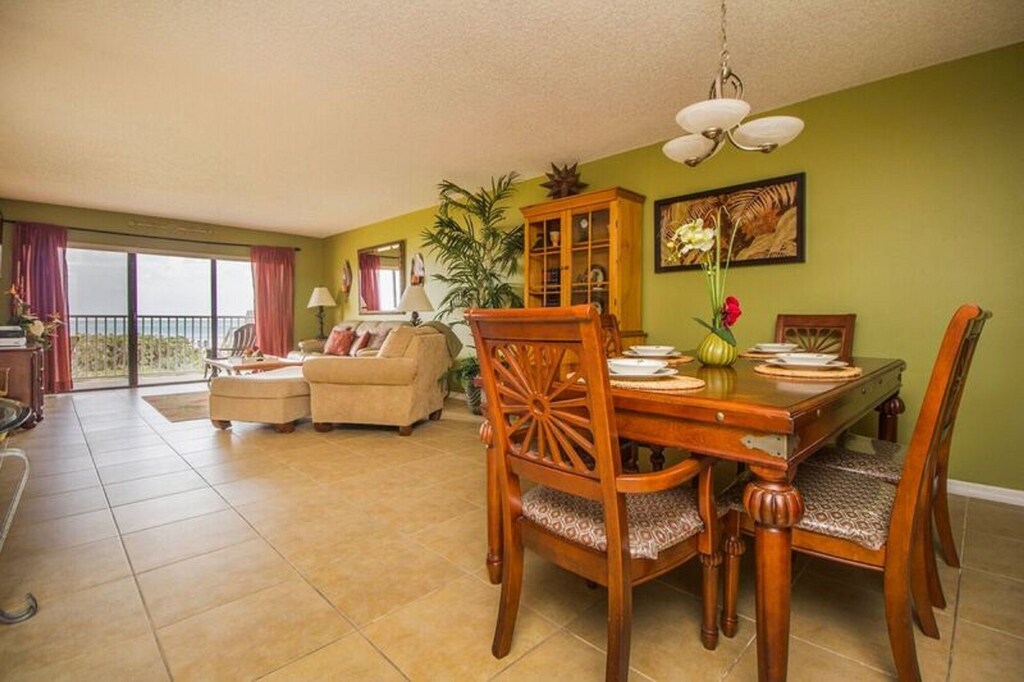 The Tropical Oasis
Rent Now$257/avg nightly
This Tommy Bahama-style oceanfront condo is a Tropical Oasis! Updated with tasteful beach house decor, the living room and one bedroom have an extended balcony that overlooks the beach. Convenient to shops, cafes, restaurants, and more, this unit can accommodate up to eight guests. Amenities include a full kitchen with full-size appliances, a fully furnished balcony, a full-size washer and dryer, free parking, and more!
Bedrooms: 2
Bathrooms: 2
Sleeps: 8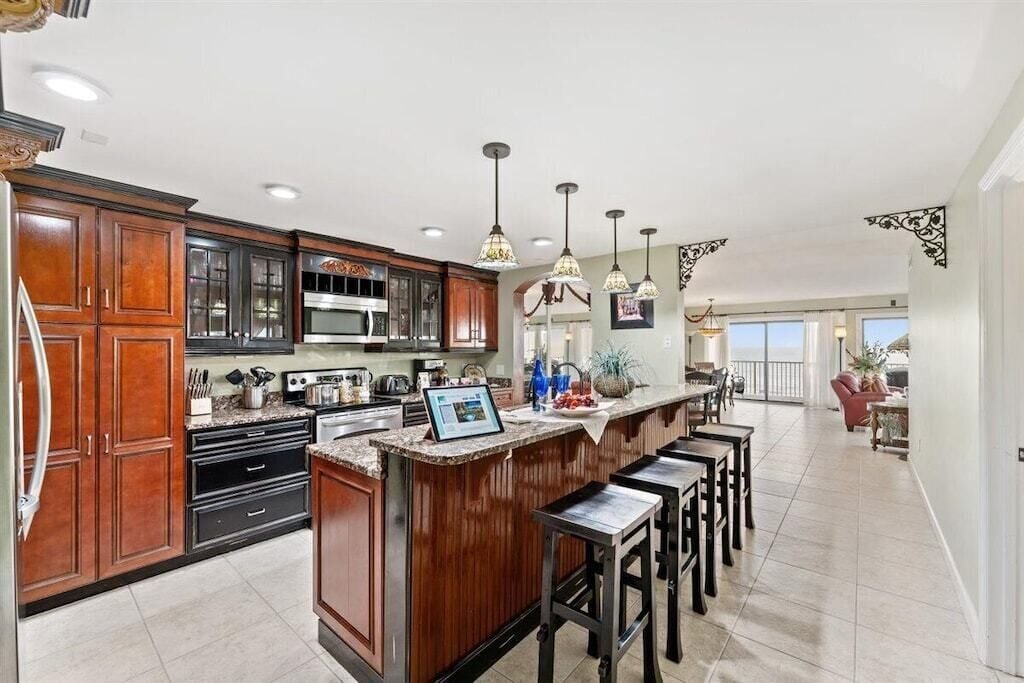 Sandcastles 611
Rent Now$325/avg nightly
How does 1,800 square feet of luxury with a panoramic ocean view from the living room or dining room sound to you? Me, too! Check out Sandcastles 611, a corner unit that comes with a 43-foot wraparound balcony with multiple sliding doors. Relax on the leather furniture, create some culinary delights in the well-equipped kitchen, then dine in the connected dining area or at the bar.
Check out the pictures of this one! Perfect for a family vacation, every room is absolutely stunning with amenities galore. You'll have use of the full-size washer and dryer. Also provided are boogie boards, coolers, beach chairs, a beach umbrella, and lots more — don't hesitate, this great location is in high demand!
Bedrooms: 3
Bathrooms: 2
Sleeps: 7
To discover even more things to do in and around Cocoa Beach, check out: