5 ways to help parents instill resilience in their children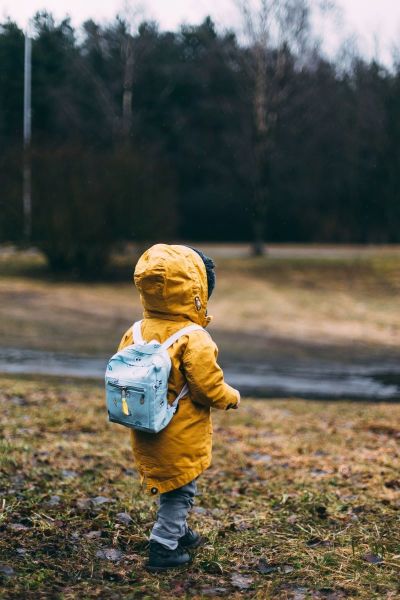 It's only natural that every parent wants their child to succeed. But "success" can mean a lot of different things to different people. When I think about what makes my kids successful, I'm not thinking about their grades or doing well in sports. I want them to be whole and full-hearted. I want them to live lives of purpose. I want them to have character that makes them proud. I want them to enjoy their lives, do meaningful work and be a blessing to everyone they meet. And to be honest, I want them to be a person I like to hang out with, because they're just "good people" as I like to say.
But that's just how I look at it. You might look at it differently. But no matter how each parent defines success, Back to School season presents a great backdrop for our kids to grow and hopefully thrive. Our children will be heading from a relaxing summer back into a life of deadlines and all different kinds of relationships. When we add this to all of the effects of what they've experienced over the past few years, it's a lot. And a simple question comes to mind: How do I teach my children to be resilient?
Let me give you five tips to help your child grow in their resilience.
1. You can't give what you don't have
There's no better place to start, is there? Let's face it, this is the foundation of it all: resilient parents raise resilient kids. Why? Because day in and day out, our children see their parents model life, right in front of their eyes. And before we can plant and grow those seeds of resilience in our children, we need to see our lives as a resilience curriculum. There is no better teacher than experience. Every day, God offers us opportunities to instill resilience in us, whether it's our work, our relationships, our marriage, or our family, God is always inviting us to grow. Your children already know that life is messy. But when they see their parents overcoming the many obstacles of life, their perspective is shaped by your response to hard things. And when your children see a living example of resilience in your life, you are inviting your children to learn the lessons of resilience that you are learning.
2. Remember yesterday's victories
One of the keys to having hope in the future, the yet-to-come that God has for us, is taking time to look back and take stock of all the victories. But I'll be honest, in my life, I've found that in times of struggle, I can quickly forget those stories. Am I right? In the same way that we remind ourselves of God's faithful hand at work in our lives, we need to keep reminding our children of past victories. This is something we see in the Scriptures. In book after book of the Bible, God continually rehearses the history of the children of Israel. They are constantly reminded of what happened in the past. Why? Because our nature is to forget and to worry and struggle. And instead, God wants to point us to hope for our future. Just as our Father wants us to remember, keep reminding your children of past struggles and how far they have come. Tell them about God's faithfulness and their victories over hard things through the help of Jesus at work in their lives. That hope is an indispensable ingredient if you want to cultivate resilience in your children.
3. Remind them that they're in the middle chapters
This is huge. Not only for our children but for us as well. As a pastor, I often remind people that the story isn't over yet. We're still in the middle of the story God is writing. When life is hard and things are uncertain, we tend to convince ourselves that this is how it will always be. We decide, although not rationally, that this is it — the story ends here! Wrong. It's the middle chapters. Just like the old movie formula where everything gets really bad before it gets better, we need to remind our children (and ourselves) that there's a long way to go, and God's just getting started.
4. Let the struggle be purposeful
We often say, "The struggle is real." But how often do we say, "The struggle is purposeful"? One of the many lessons I've learned from the Bible is that God never wastes the hard things. There is growth and transformation waiting for us just around the corner from our hardships. Jesus' resurrection was only possible after his crucifixion. And the same is true for us. Certain fruit is only born under uniquely challenging conditions. So, when things are hard, let's help our children see the purpose in the pain. Sometimes we simply need to learn how to keep putting one foot in front of the other and moving forward, doing the right things, even if we don't see the outcome we desire. Sometimes the ways that we realign our lives after a failure lead us to greater understanding and deeper purpose. It's essential to help our children find purpose in the struggle.
5. Keep the big picture in mind
Finally, we must help our kids stay focused on the big picture. Our character is way more important than our comfort or accomplishments. Jesus said it this way, "What does it profit a person if they gain the whole world and lose their own soul?" (Matthew 16:26). You see, there is always something bigger at play in all of the struggles we experience. Like a flower blooming in its time, life is truly about the emergence of the person God created us to be. And that is so much more important than anything we tend to focus on. So, let's keep the big picture in mind and help our children do the same, and we will see the goodness of God bear fruit in our lives.
Daniel Fusco is the author of Crazy Happy swear You're Gonna Make It: Unlocking Resilience When Life Is a Mess (Waterbrook; on sale 9/13/22). He's also a church planter and lead pastor of Crossroads Community Church in Vancouver, Washington. His radio program, Jesus Is Real Radio, is broadcast across the country, and his TV show, Real with Daniel Fusco, airs across the globe. He also hosts the You're Gonna Make It podcast. He and his wife have three children and reside in southwest Washington. For more information, visit him at danielfusco.com and facebook.com/danielfusco
Free

Religious Freedom Updates

Join thousands of others to get the FREEDOM POST newsletter for free, sent twice a week from The Christian Post.
.