Annual arts awards scattered throughout the Quinte region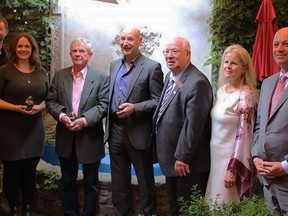 Article content
JACK EVANS
FOR POSTMEDIA
Article content
Five individuals or groups were recipients of the annual Quinte Arts Council Arts Recognition Awards program for 2022. The talents honored are from a wild variety of genres, and scattered throughout the Quinte region. The awards were presented at the annual Mayor's Luncheon for the Arts, held in Dinkel's Restaurant Thursday, when more than 100 arts patrons, fans and supporters gathered for a gourmet luncheon.
As master of ceremonies, prominent businessman Sam Brady introduced nominators for each prospective award, who outlined the skills and achievements of their nominee.
Artist and educator Anne Cunningham was cited by nominator Marilyn Lawrie for four decades of service to the Quinte Arts Council, plus founding the Cunningham Center for Arts Education, which spread to five locations in Belleville, Trenton and Toronto, involving hundreds of students. Emcee Brady recalled that her teaching when he was a kindergarten pupil was an inspiration for love of music for him.
Article content
Ms. Cunningham was not able to attend because of illness. The award included a framed certificate and a fist-sized, bullet-shaped paperweight trophy, made as is tradition for this event, by a local artisan, for this year, Mark Armstrong of Wellington.
A nomination from the Bay of Quinte Marketing Board added impact for the videography team of Victor Cooper and Kelly McKinnon, of Eighty-Twenty Studio, whose accomplishments include a widely-circulated and viewed series based in Belleville, called "Stoney Lonesome" and many more. videos. Dug Stevenson, Executive Director of the Bay of Quinte Marketing Board, said, "Victor is just dripping with talent." He also reported the popular series will include a "Christmas special" this year. The shows use local actors and locations.
Article content
Next was Dan Atkinson, a chartered accountant, who got involved in volunteering for the Quinte Arts Council as a way to get to know people in the community when he moved here in the late 1980s. He served in various roles with the arts council, including chairman, plus with the Quinte Ballet School of Canada Board. He also serves on the Belleville General Hospital Foundation, and most recently the Belleville Cemetery Board. His nominator, Christina Taylor of the ballet school described him as "a strong advocate for the not-for-profits and the arts in the Quinte area."
A talented pianist, jazz musician and arts educator, Howard Rees, is another newcomer to the area whose main achievement is creating a popular and much-used curriculum for music appreciation for public school students' especially those who might not otherwise have an opportunity to get involved with music. The program is now widely used across Ontario after starting in four Belleville schools. It is operated by a foundation he started and called "We Are One."
Article content
After thanking the arts council for the award, Rees noted his program now has in excess of 4,000 students across Ontario.
Finally, it was Tweed and Company Theatre. Founder and artistic director Tim Porter, who was born and raised in Tweed, was supported by the company manager, Emily Hewton, who was born and raised in Stirling.
Porter acknowledged the strong support the Quinte Arts Council and its supporters have given him and his company since its founding in 2009. His citation was given by Tweed's new-to-be mayor who was elected by acclamation in recent days, Don DeGenova, who has been serving as chair of the company's board, a position he will have to leave with his new duties.
The home-grown troupe has become legendary in Ontario for its outstanding success in creative, original musicals and working with new playwrights.