Boy missing in floodwaters after cars swept away in NSW Central West
A five-year-old boy is missing and four of his family members were hospitalized after their car was swept away by floodwaters in central-western New South Wales.
Key points:
Emergency services are waiting to access the submerged cars
The four rescued people were taken by ambulance to Dubbo Hospital
There are 19 flood warnings across the state
Police said their car was traveling along McGrane Way near Tullamore at about 8pm on Friday when it became trapped in floodwaters.
Emergency services rescued two other children and their parents, who were found clinging to trees.
However, the five-year-old boy remains missing and police are waiting to access the submerged vehicles.
The occupants of a second vehicle who became trapped managed to swim to safety and raise the alarm.
The child's mother, father and two siblings were taken by ambulance to Dubbo Hospital where his mother remains in a critical but stable condition.
Two other children are also in hospital in a stable condition but their father was released.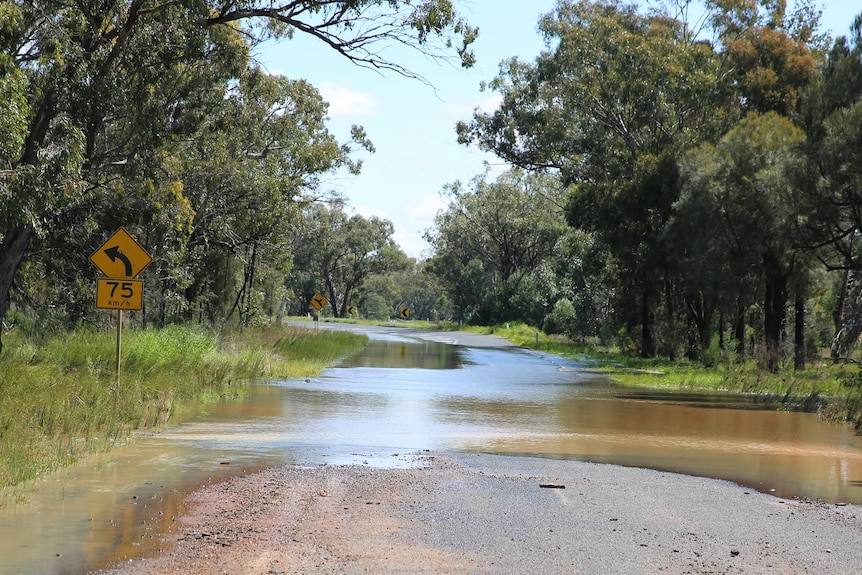 Local farmer and Rural Fire Service (RFS) member Fiona Aveyard was one of the first on the scene last night after the alarm was raised.
"It was a miracle they even got a signal to call for help," she said.
"We arrived in the dark in water that was backed up a couple of hundred meters from the crossing. The water at the low-level crossing was up about a meter and a half.
"They [the family members] were downstream in the creek clinging to trees — a mother, a father and two young children.
"If that second vehicle hadn't come across, there's no way we'd have that family here this morning. They couldn't have clung to those trees with children all night."
Ms Aveyard said in the past month emergency services had pulled about a dozen vehicles from the crossing where the cars were swept away.
SES Assistant Commissioner Sean Kearns said it was an "extremely wet time across the state".
"Most river systems in western NSW are in some sort of flood, so we are warning the community to take heed when they travel," he said.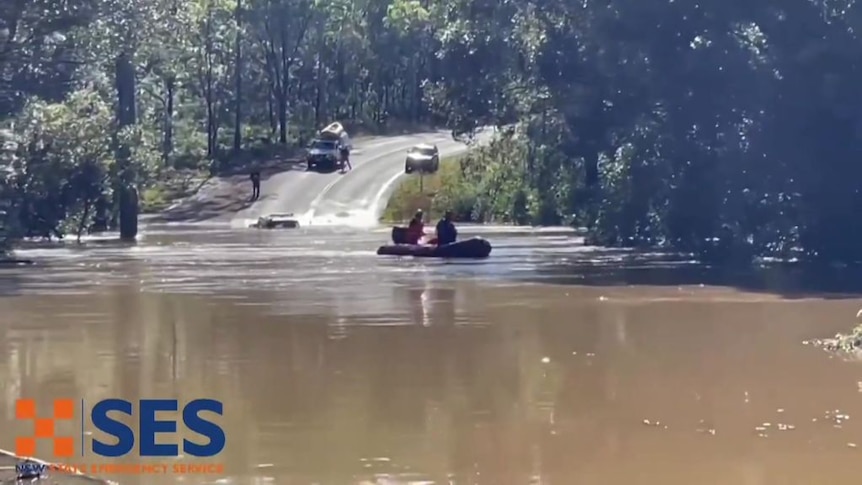 Tullamore is about 90 kilometers north-west of Parkes.
Across NSW, there are 19 flood warnings in place, and the State Emergency Service [SES] has conducted five flood rescues overnight.
The area of ​​most concern is around Gunnedah in the state's north-east.
SES volunteers door-knocked some residents homes warning them to be on alert, and several homes were inundated due to a major flood peak this morning.
SES spokesperson Craig Ronan said it's hoped the river levels will drop today.
"The peak will stay there for a number of hours because of the water being released from the dam," he said.
"But I notice the dam is decreasing their releases today — hopefully that will let the river drop and obviously the water will go on downstream to places like Boggabri, Wee Waa and Narrabri."
Bureau of Meteorology (BOM) forecaster Grace Legge said the catchment is saturated and the peak from the Peel River and outflows from Keepit Dam are combining.
"It will affect those low-lying areas — anyone near the river systems can definitely be impacted with water over the roads and crossings as well so as always 'if it's flooded, forget it'," she said.
The Namoi River passed the major flood level on Friday night after reaching a higher peak last weekend, which inundated at least four properties.
The SES said the river could reach 8.30 meters, which might impact Gunnedah Airport.
.