Could a central bank shift away from dollar boost bullion prices?
Gold Positioning Flips to Net-Long
A slight pullback in gold over the last few sessions as the USD attempts to nurse its recent losses. However, the longer-term outlook for the precious metal is looking much more appealing. I have mentioned previously that positioning has been a factor that has exacerbated the move from the low 1600s to within close proximity of the psychological 1800 level. The latest COT data highlights this with outright shorts being covered while longs have also increased, resulting in a flip in positioning to net-long in the reporting week to Nov 15th.
What is your sentiment on Gold?
Vote to see Traders sentiment!
Gold COT Positioning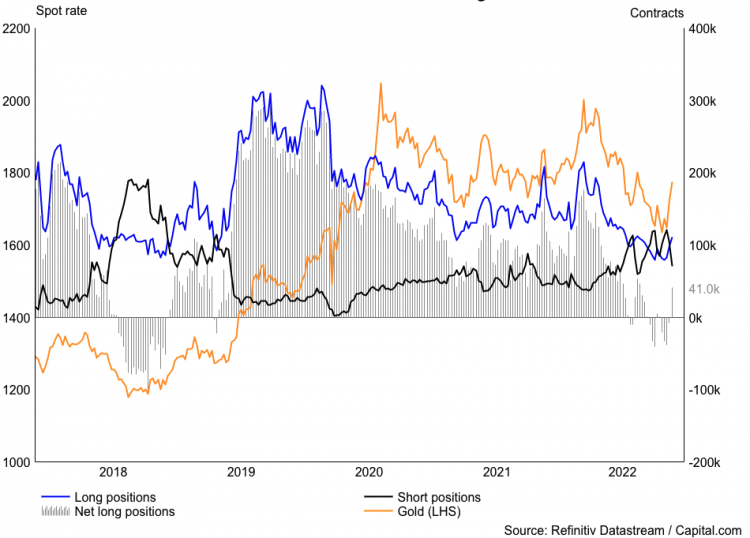 Gold Positioning – Photo: Capital.com. Source: Refinitiv Datastream
Gold Bullish Case Rises If Yields Have Peaked
That said, being bullish on gold is essentially a trade where you are looking for lower US yields and a softer USD. Now while the latter may be harder to come by, downside risks to yields have been growing. The Fed and other central banks are looking to slow the pace of rate hikes, suggesting that we are moving past peak central bank hawkishness. At the same time, the warning signs for a recession continue to grow for the US, whether that be a more inverted yield curve or the multi-month declines in the CB leading index data. Both have been reliable in forecasting recessions, more than many economists. As such, the case is rising that yields could head lower from here on.
Central Banks Stepping up the Pace of Gold Buying
The other variable to consider is central bank purchases of gold. According to the World Gold Council, central banks have been buying gold in Q3 at the fastest pace on record at roughly $20m. Among the largest buyers of gold, this includes Turkey, Qatar and Uzbekistan. However, there have been central banks that have not been identified that have purchased a sizeable amount of gold. Some speculate this may be in fact China, as per reports in the Nikkei. The rationale is that China would look to reduce their exposure to the US dollar and therefore has been stockpiling on gold. Now while China's involvement cannot be confirmed, the fact that central banks have been excessively accumulating does provide an undercurrent of support for the precious metal.
Gold Technical Outlook
As mentioned above, while there has been a pullback in the precious metal, the outlook remains encouraging and dips are likely to find support from 1700-1720 where the 100DMA is situated, alongside the October highs. Meanwhile, for a fresh leg higher a closing break above the 200 daily moving average will likely be needed.
Gold Daily Time Frame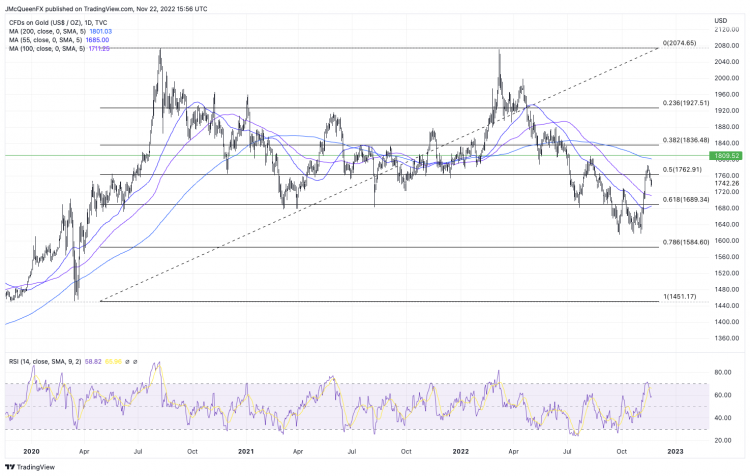 Gold Price Chart – Photo.Capital.com. Source: Tradingview