Former Theater Calgary director finds purpose on pilgrimage in Spain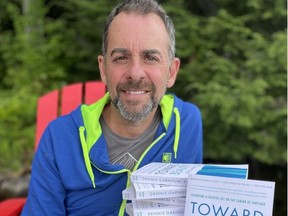 Reviews and recommendations are unbiased and products are independently selected. Postmedia may earn an affiliate commission from purchases made through links on this page.
Content article
Whether he was directing, mentoring an artist or writing a play, during the 11 years that Dennis Garnhum served as artistic director of Theater Calgary, he proved himself a born storyteller.
Content article
With his book, Toward Beauty, Garnhum has made himself the central character in an amazing true story of a life renewed.
Content article
Garnhum left Theater Calgary in 2016 to become artistic director of the Grand Theater in London, Ont., where he had grown up. In his first three seasons at the Grand, Garnhum programmed world, North American and Canadian premieres and, in 2020 was working with Emma Donoghue on a stage version of her novel Room which she had written while living in London. Producers from the United Kingdom, Toronto and New York had all expressed interest in future productions but the day before The Grand's planned premiere, the pandemic shut down theaters worldwide.
A second attempt to stage Room at the Grand in 2021 was also canceled and that's when Garnhum's life began to fall apart. He would find himself on the floor of his kitchen crying, not knowing when or how he got there but he always knew why.
Content article
"Like so many artists, I had lost my identity. I could no longer do what had given meaning to my life for so long. I was having a mental, spiritual and emotional breakdown. My creative pilot light had gone out," says Garnhum. "I'm not special. I'm not unique. I just happened to write it all down."
It was Garnhum's husband Bruce Sellery and their daughter Asher who suggested he travel to Spain and hike the Camino de Santiago del Norte – renowned for its rejuvenating properties. Sellery and Garnhum are avid hikers, and the Camino was always on their bucket list, but Sellery felt this was something his partner needed to do alone.
So, in August 2021, Garnhum left Canada for Spain and in 32 days he walked 830 kilometers, averaging eight to 12 hours a day traversing rugged coastal terrain, along beaches and through towns, cities and forests. When he did stop to eat or rest and especially at night in his room, a café or bar, Garnhum remembered not just what he had seen that day but what he had felt and, if he was fortunate enough to engage with other hikers, he would include their observations.
Content article
"A book was an ember of a possibility when I committed to this journey. It became like writing a journal. The more I wrote, the more I became obsessed with recording my thoughts. I had brought along a little portable keyboard. By the time I returned home, I had written 40,000 words on my phone."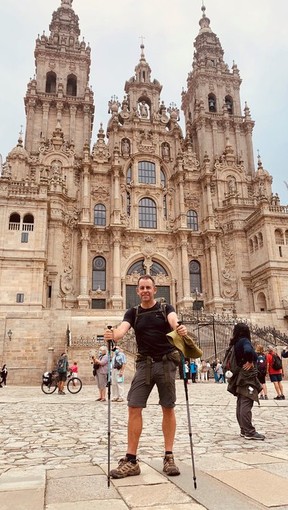 Once back in Canada, Garnhum hired Gali Kronenberg, a writing coach in Los Angeles.
"Gali told me if my experience was ever going to be a book, I had to go much deeper and tell the truth. I said there was so much beauty in what I had written but I needed to deal with the ugly as well. He said he could tell I was running away from something and that meant I had to go back as far as my childhood to deal with issues that had helped form me."
Toward Beauty contains many flashbacks to traumatic issues of Garnhum dealing with his sexuality and admitting, not only to himself but to family, friends and colleagues, that he was gay. It also hints at two letters Garnhum carried in his backpack that he planned to reread to finally deal with their contents. These mysterious letters provide two of the most poignant passages in the book as does a time when I got lost in a forest which brought back fears of a stalking episode in Calgary.
Content article
Just days before the end of his trek, Garnhum met a man named Valentino who runs a music school for young people in Cape Town. He calls Valentino his angel because "our connection was so quick and so intense that, before long, we were finishing each other's sentences. I could unburden myself completely and openly with him. I hadn't told anyone just how bad things had been for me.
"I was already on the path of rebuilding my life, but I needed the explosion of clarity Valentino gave me… that's what an angel does for you."
Garnhum was raised Catholic but left the church because of its edicts on homosexuality and he knew how much it pained his mother, a devout Catholic.
"I remained a spiritual person. I never abandoned God. I abandoned the church but only after it abandoned me. Because of what happened for me on the Camino, I'm proudly reengaged with the Catholic Church, and I never thought that was possible and I owe it to the Camino."
Garnhum says his trek was the start of a series of journeys.
"The first was hiking the Camino. My second journey was writing the book and now I am on a third journey with people who are reading the book and writing about how it affected them and sharing their own Camino stories."
Garnhum says he never envisioned himself as a writer but the experience with Toward Beauty has given him the confidence to do it again.
"Maybe the next time I'll try my hand at fiction."
Dennis Garnhum's Toward Beauty is available through Compass Press.