GOLDSTEIN: PM is entitled to vacations — taxpayers are entitled to know where
Opinion: The PMO appears to have realized — finally — that keeping the location of Trudeau's vacations secret is dumb.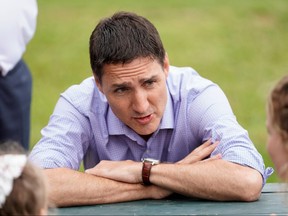 Article content
Prime Minister Justin Trudeau is on a two-week vacation with his family in Costa Rica and that's fine — other than the fact that his climate change agenda in Canada would suggest a vacation closer to home, to lead by example.
Article content
But that's different from recognizing that being PM is a tough job and he's entitled to vacation time with his family.
However, it comes with the caveat that the PM is always the PM, regardless of whether he's working in his office in Ottawa, attending G-7 meetings in Europe, or vacationing on a beach in the Caribbean, or in Tofino, BC
The Prime Minister's Office noted that during his Costa Rica vacation, Trudeau is getting regular briefings and it consulted with the ethics commissioner in advance about the trip, regarding any potential conflicts of interest.
All well and good.
What's silly is that some media commentators in Canada are criticizing other media for having reported on Trudeau's Costa Rica vacation, as if it should be some sort of state secret and it's unfair to criticize the PM for going on vacation when there are serious issues at home.
Article content
It's silly because if no one in the media had asked questions about Trudeau, his family and some Liberal friends vacationing with the Aga Khan on his private island in the Bahamas in late 2016, we would never have known Trudeau broke the federal conflict of interest act by doing so.
The PMO initially tried to keep where Trudeau and his family were vacationing a secret.
When it finally did say Trudeau was on vacation in the Bahamas after media questioning, it failed to mention until several days later that he was on the private island of the Aga Khan, while his government was giving millions of dollars of taxpayers' money to his charitable foundation.
Similarly, if the media had taken the word of the PMO last year that Trudeau was in private meetings in Ottawa during National Reconciliation Day on Sept. 30, we would never have known he was in fact holidaying in Tofino, BC — walking on a beach while the PMO insisted he wasn't on a beach.
Article content
Trudeau apologized for what he described as an error in judgment by not accepting an invitation from Indigenous leaders to meet with them that day in BC, amid the discovery of unmarked graves near residential schools. He said he had phone conversations with residential school survivors that day.
The reason Trudeau's vacations have been controversial is that the PMO has been secretive about them, as it was the year before his Aga Khan vacation when Trudeau and his family were holidaying in Saint Kitts and Nevis.
That blew up when TMZ reported the Trudeaus were staying at an expensive resort.
(Trudeau pays for his family's personal costs on vacations. Taxpayers pay for accommodating his RCMP security detail, among other expenses.)
Article content
The PMO appears to have realized — finally — that keeping the location of Trudeau's vacations secret is dumb, as they've now included him in Costa Rica on his daily itinerary.
By contrast, as the White House Correspondents' Association notes on its website, American media are routinely informed where the US president is vacationing and a small group of reporters called the press pool — representing all American media — have traveled with US presidents on their vacations since the era of Franklin Delano Roosevelt, US president from 1933 until his death in 1945.