HAL'S KITCHEN: Our favorite foods from home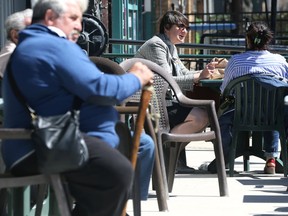 Article content
Do you have a local food you just can't get enough of? For me, it's chocolate-covered jujubes from Mordens' of Winnipeg. Or maybe the marble rye at City Bread. There are others but that's a couple near and dear to my heart. On my radio show on Friday, a listener told me about loading up a suitcase at Tenderloin Meat before a flight to British Columbia. That's the other thing about the foods we love from Winnipeg and Manitoba, friends and family who move to other parts of Canada want us to ship them their favs. And then when they return here for a visit, they load up before leaving again. I did the same thing on a recent trip home to southern Alberta. I think I ate a Luigi's pizza every other night while I was there. It tasted just like it did when I was a kid. Like Santa Lucia here, it's all about the sauce, according to the owner. I asked if I could speak to her so I could tell her how much I miss the pizza. Please share with me your favorite foods from home in an email to [email protected] and I'll do more on this soon.
Article content
CANNED TOMATO SAUCE
For me, canned tomato sauce just doesn't cut it. So without making your own, how can you take a jar of it and make it better. Sauce experts are sharing their best tips. One chef says sprinkle some basil or oregano on top before you serve it. Another adds caramelized onions and garlic. Or how about this, try cooking the sauce in red bell peppers and mushrooms. Sautéd vegetables go a long way in adding flavor.
Article content
AVOCADO A DAY
An avocado a day might keep bad cholesterol at bay. A new study says eating an avocado each day for six months will lower your unhealthy cholesterol levels. However, avocados do nothing for a person's belly fat or the circumference of their waist. Avocados are loaded with healthy fats that don't help with weight loss as indicated in previous studies.
Article content
BLOOD SUGAR SPIKES
Most people know foods high in carbohydrates and starch can cause sugar spikes and crashes. But experts are out with advice on how to deal with that mid-afternoon slump. They say you should try combining carbs with proteins and fats. Instead of a pastry, try eating high-carb foods with fats and proteins. For example, pair toast with eggs, pasta with spinach or put cream cheese on a bagel. The proteins and fats will cause your blood sugar to stay more stable.
FEELING HANGRY
Hunger really does make people feel hangry. A new study confirms it's a real emotional state. Researchers in Europe say feeling hungry really does lead to more anger and irritability. Hangry, the blending of the words hungry and angry, has become a popular expression in recent years. Study authors from Anglia Ruskin University and the Karl Landsteiner University of Health Sciences say hunger also lowers a person's level of pleasure.
Article content
IT'S A KAVA SUMMER
Kava, an island root in the Pacific that is traditionally consumed as a tea, is a new ingredient in non-alcoholic cocktails this summer. Kava is known to relieve pain and improve cognition. In New York City, some trendy spots are serving Kava in these drinks because they appeal to sober-curious Millennials and members of Generation Z.
PRINGLES SPIDER
Pringles has started a petition to rename a spider after its chips. The company says the creepy crawler looks very similar to its mascot. The kidney garden spider has a mostly green body with a large circular section of its tiny body being white with a black pattern which looks a lot like a face with a mustache. According to Pringles, "the resemblance is unCANny." This is definitely not making me hungry for Pringles potato chips.
LITTLE CAESARS MERCH
If you're a Little Caesars, the pizza chain is out with some new summer merchandise. The lineup includes pizza-themed slides, swim trunks, tanks and more. It's all available online at hotnreadyshop.com.
-Hal has written columns for years. He's also the host of Connecting Winnipeg weekday mornings from 10 to noon on 680 CJOB. You can email him at [email protected].