Kenney weighs in on federal COVID-19 travel rules at an unrelated event
"It's been clear to me from the beginning that at least this latest round of travel restrictions were political and optical – not about reducing transmission."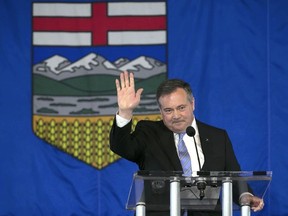 Article content
Alberta Premier Jason Kenney is weighing in on reports that Prime Minister Justin Trudeau might lift vaccine requirements for travelers and make use of the ArriveCan app voluntary by the end of September.
Article content
Kenney said at an early Wednesday news conference it's "well past time" and claimed in December consultations with provincial leaders, Trudeau "essentially" said since most public health decisions are outside of the federal government's mandate, "we have to be seen to be doing something."
Article content
Kenney, in Toronto pitching an Alberta ad campaign, said his government has been consistently opposed to the federal rules.
"It's been clear to me from the beginning that at least this latest round of travel restrictions were political and optical — not about reducing transmission," said Kenney.
The outgoing premier was responding to questions from a reporter about comments made Tuesday by Alberta Labor and Immigration Minister Kaycee Madu, who raised eyebrows when he tweeted that the federal policies were "tyrannical," claimed they were not about science, but political control, and thanked the so-called Freedom Convoy for mobilizing against them.
Article content
Kenney said he doesn't monitor Twitter, suggesting reporters speak with Madu for clarification.
Madu's office did not respond to a request from Postmedia for comment and clarification as of press time.
Four men who were part of the movement that blockaded the Coutts border crossing in February have been charged with conspiracy to commit murder and are scheduled to face trial in June.
NDP justice critic Irfan Sabir was quick to slam Madu on social media Tuesday, calling on Kenney and UCP leadership candidates to "unequivocally denounce" Madu's comments. The NDP has previously called for Madu's removal from cabinet for attempting to interfere with the administration of justice after he received a traffic ticket.
Article content
Kenney was in Toronto Wednesday to announce the second phase of a $2.6-million ad campaign first launched in August aimed at attracting young professionals from that city and Vancouver.
His trip came at a volatile political moment in Alberta.
Kenney is set to be replaced by a new leader Oct. 6 and Madu has endorsed former Wildrose leader Danielle Smith in the race, who has promised to never impose vaccination requirements and to give "amnesty" to those who were fined and jailed for ignoring rules around COVID-19.
When asked whether Madu's comments supporting the Freedom Convoy would undermine the message of Alberta's ad campaign, Kenney said people have diverse views across the country.
"I really don't think people are going to make life decisions based on whether they agree or disagree with one particular person in a different province," Kenney said, adding he believes the province has been a "magnet" for people who value freedom .
Article content
While justice minister, Madu sat in cabinet during the pandemic when the province enacted public health restrictions, including in late 2020 requiring international travelers arriving in Alberta to isolate for 14 days. On Wednesday, Kenney said provincial measures can't be compared to federal measures, because the province was responsible for ensuring the capacity of the health-care system.
COVID-19 grievances, conspiracy theories drove extremist narratives in Alberta, Canada: CSIS

Experts weigh in on COVID cases and booster shots as fall increases transmission risk
Last May, Madu appeared at a government news conference urging Albertans to get vaccinated and follow the latest public health orders, announcing that fines would be doubled for the "small few" refusing to comply with the rules.
Article content
"I have been clear from day one that it is my expectation that law enforcement and the Crown Prosecution Service would deploy all tools available to them to ensure that the public health orders are enforced," Madu said. He has since said he was firmly against lockdowns, vaccine mandates and the province's vaccine passport.
Meanwhile, Kenney has been outspoken in his criticism of Smith's flagship platform promise of a sovereignty act that would allow Alberta to ignore federal laws and regulations it doesn't like.
He has called the idea "cockamamie," illegal, and potentially devastating for business investment in the province.
Postmedia reached out to the Prime Minister's Office for comment but did not receive a response by press time.