Maple Leafs GM set to work on top-to-bottom changes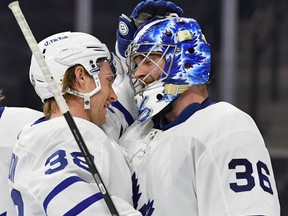 Article content
While the very bottom of the Maple Leafs depth chart changed a bit after this week's draft, the top tier is a work in progress.
Article content
Right up to the start of free agency this Wednesday, general manager Kyle Dubas will be trying to set the table for a run at a goaltender, either retaining Jack Campbell, getting in on the shrinking number that will hit the open market, namely Colorado's Darcy Kuemper or pursuing a trade.
If the 'sacrificial lamb' theory has any validation – that the Leafs can no longer count on ending their first round playoff hex unless their core four is broken up – the next few days will determine if Dubas actually gets bold enough to move William Nylander's palatable $ 6.96 million US cap hit for space, defense or prospects. The downside is the loss of both Nylander and Ilya Mikheyev as a pending UFA would drain goals from the NHL's second highest offense.
Article content
Another Leaf forward Alex Kerfoot, who will face renewed comparisons to Nazem Kadri now that the latter has won a Cup after they were swapped for each other, is also trade bait. As with Nylander, he does not lack for contributions as a Leaf, but poses an attractive deal for a team, especially one near the cap floor that could handle his $ 3.5 million on their books, yet pay him just $ 750,000 in real dollars.
Article content
No matter how it's accomplished, Dubas must get a goalie of consequence, either out-bid teams such as Washington and Edmonton for Kuemper or deal for a proven stopper such as Anaheim's John Gibson.
Defenseman Ilya Lyubushkin and forward Colin Blackwell are also pending UFAs, though the $ 3.8 million gained for this year and next when Dubas wrote off goalie Petr Mrazek in a trade to Chicago can be partly used to keep them in house.
Article content
Dubas is also negotiating with restricted free agents, first rying to assure defenseman Rasmus Sandin he's still part of the long term plan, settling with winger Pierre Engvall once the club submits a qualifying offer of $ 1.25 million on Monday. But they could lose winger Ondrej Kase, their Bill Masterton Trophy nominee, in the same manner he was made available by Boston. His concussion history makes him questionable to bring back as an RFA, with arbitration rights that could drive up his price.
The Leafs will soon announce details of their development camp with a few of this week's draft picks, previous selections, young members of the AHL Marlies and some invitees not picked at the draft whom Toronto expressed interest.