Sonora Christmas Parade To Impact Travel Friday Night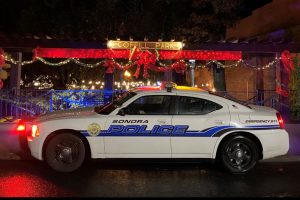 Sonora Police road closures and no parking areas for the Christmas Parade
Sonora, CA – The 39th Annual Christmas Parade in Downtown Sonora begins Friday night, impacting traffic.
There are a total of 82 entries in this year's parade, which begins at 6 pm and is expected to last until 8 pm Sonora Police encourage spectators to arrive before 5 pm to avoid travel and parking issues. They added that once the street closures occur, vehicles will not be allowed into the parade route area, even if those inside the vehicles are participants.
SPD provides these lists and times for parade street closures and no parking zones:
Starting at 3:30 pm and through the parade:
East Lytton at Washington St
East William at Washington St
Gold at Washington St
Linoberg between Washington St and Green St
West Jackson at Green St
East Jackson between Washington St and Stewart St
Yaney St at Washington St
Snell Street between Bonanza St and School St.
Closing at 4 pm and will remain so for the parade duration:
• School St between Washington St (SR 49) and Snell St
Closed at 5:30 pm for the parade duration.
South Washington St at SR 108
North and South Washington St
Stockton Rd
Restano Way
Temporary No Parking areas are in the following locations from 4 pm to the conclusion of the event:
Washington St from Elkin St to Toby St
Stockton Rd between Washington St and 70 Stockton Rd
Temporary No Parking zones will also be marked off between Green and Stewart streets beginning at 3:30 pm:
Elkin St
Dodge St
Jackson St
Yaney St
Bradford St
Theall St
Linoberg St
Church St
June St
Golden St
Williams St
Lytton St
To allow spectators to leave the area, the SPD advises that the parade route will remain closed for about 20 minutes. As a result, motorists can expect heavy vehicle and pedestrian traffic after the parade. Additionally, travelers wanting to bypass the parade should use Shaws Flat to Jamestown Road to get to Highways 49 and 108. One other note: large trucks are not allowed to use downtown Stewart Street as a detour.
.